Mirrors have been an important part in decorating for centuries. It is an important  part of our day to day life and we can't go a day without contemplate us on it . It would seem that mirrors are a necessity without knowing it for everyone. Most of the times people do not know how to take advantage of it and use it as key elements of decoration in the spaces.4 WAYS TO DECORATE WITH MIRRORS
Maybe you have heard that, in small, dark places, adding mirrors will make the space feel bigger and brighter. Well, there is a lot of ways to add mirrors , but you have to know what shape and design to add to your spaces. Obviously it will depend on the style of your house (find out your style here).
Here I show you 4 ways you can use the mirrors to decorate your rooms; Let's begin
FROM FLOOR TO CEILING
This style fascinates me. If you want to use mirror from floor to ceiling, consider two things: the place and the design. The most recommended place to use mirrors and generate that effect of infinite space and luminosity are the bathrooms, halls and dining rooms. Personally I do not recommend mirrors in the bedroom. I believe in Feng-shui as it alters energy in space. But if you do not believe in that, do not pay attention and add mirrors if your room as need it. 4 WAYS TO DECORATE WITH MIRRORS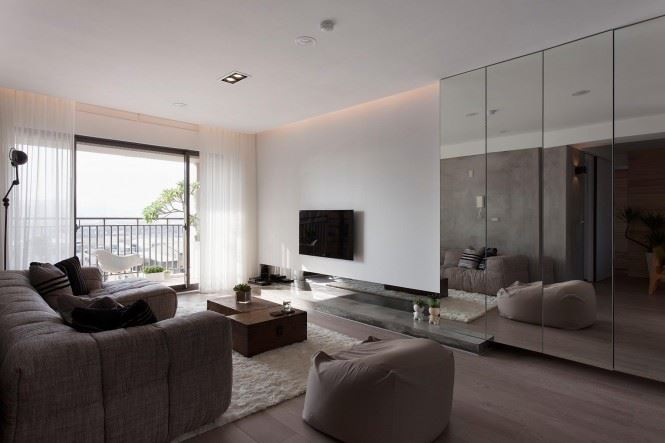 OVALS OR ROUNDS
If you like a most relaxed and elegant looks, a round or oval mirror will be the perfect element for your entrance, a wall that lacks personality or a special corner of your home. You can choose the frame depending on your style. Old, modern, recycled wood, metallic or simply without frame.
WALL GALLERY
If you love to decorate walls with paintings, photos or art, a mirror is perfect to give a unique touch to the gallery. Remember before opening holes in the wall, organize the pieces on the floor and distribute them symmetrically and proportionally.
DIFFERENT SHAPES
If you like more vintage style, shabby chic or eccentric, definitely the mirrors with different shapes and styles will give you a unique personality. You can also choose those mirrors with abstract shapes and geometric compositions. These kind of mirrors goes with those houses with more risky styles without fear of being different.
Whatever mirror you choose to hang on your walls, it will definitely change the energy, the vibes and the look in your house.
Which one is your favorite kind of mirror??